If you are not blessed with naturally stick straight hair, you know the blood, sweat and tears that can go into getting it to look sleek and sexy. Although it looks like a plain hairstyle, for most women it is a painstaking process to achieve. In any case, having long, flat hair that is parted in the middle is one of the most popular looks in Hollywood. For years, Gwyneth Paltrow has worn the crown for having the longest, straightest and blondest hair in Hollywood. But now, Victoria's Secret model Lindsay Ellingson is giving her a run for her money.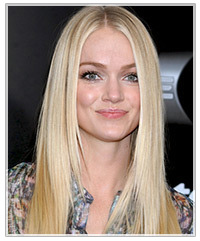 Here, Lindsay wears a slightly off-center part in her champagne blonde locks.  She has slight layering throughout the ends of her hair which start just above the shoulder and taper down. Her blonde color looks very natural and works nicely with her cool, fair complexion. Lindsay is blessed with a swan-like neck and strong cheekbones (which is obviously why she is a top model) and can pull off this long, flat style without looking like her hair is dragging her down.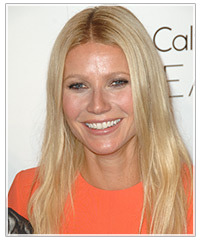 Gwyneth Paltrow is a beauty in her own right, and can also pull off the long blonde look. Here, she is sporting tanned skin which although is not her usual fair color, still works well with her corn silk blonde hair. Gwyneth sometimes adds in waves at the bottom to give her fine hair a boost, which is a good idea as the ends here look a bit straggly. Gwyneth opts for a perfect center part and tucks the front strands under for a super flat look.

What is your verdict—who wears this style better? Let us know by leaving a comment below