Gorgeous Kerry Washington knows how to work her features on the red carpet, especially when it comes to black tie events, and we can all take some hair and makeup tips from Kerry and look just as elegant at any upcoming events. Even if it's not a black tie occasion, when it comes to great hair and makeup, you really can go all out.
Kerry was recently photographed looking chic and sophisticated at this event with a trendy haircut and the perfect makeup palette to suit her hair color and skin tone. This hairstyle will work for you if you have an oval, diamond or oblong shaped face. The makeup palette suits all skin tones and hair colors.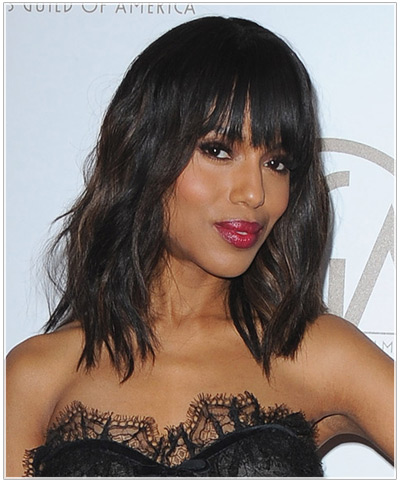 To get this hairstyle, you will need to ask your stylist for a cut that ends just past your shoulders, with layers added through the lengths and ends. The bangs are cut long with some shearing throughout the ends to give them a wispy, eye-skimming effect. Keep in mind that these will need regular trims to keep them looking stylish. If you have natural wave in your hair then you will need minimal styling time to make this 'do look fabulous. Simply use some pomade or a light styling wax throughout to highlight the waves and add some movement. If you have straight hair, use a curling wand on a very low setting to create this soft, barely-there waves and enhance them with a bit of pomade throughout.
To get Kerry's makeup, start with a metallic brown shade on the eyelid. Keep it neutral and try an earthy brown hue. Then, use a deep and dramatic chocolate brown in the crease and outer third portion of the eyelid. Using a smaller angled brush, apply the light and medium shades under the eye as well. Finally, line both lash lines with a dark brown or black liner and then apply a lash-lengthening mascara.
On her cheeks, Kerry has used a rosy pink to enhance her already glowing complexion and highlight her awesome cheekbones. Hint: Work on your glowing base by drinking lots of coconut water (a method Kerry swears by) and use her favorite sunscreen by Elta.
Finally, make those lips ready for a party by applying a raspberry lip liner and matching lipstick. Notice how Kerry has opted for a lippie with a bit of sheerness to it- this is a fabulous way to add some color while still keeping your look fresh and natural. On the other hand, if you want a more striking look, try a bold matte lipstick to really turn heads!
As Kerry shows us here, going to a black tie event, or other special event, doesn't mean you have to look 'stuffy'. Have fun with your makeup and dare to wear chic, sassy styles that have lots of movement in them, rather than stiff updos that lack style. And don't forget to finish your look off with a fabulous dress (see Kerry's strapless lace number) and your favorite piece of statement jewelry.