Kate Beckinsale is a British beauty known for her classic English Rose looks- and that long, brown wavy hair. Although Kate always looks great, we can't help but wonder if it's time to shake things up a little bit. First, let's take a look at Beckinsale's typical style over the years.
Most recently, Kate has been wearing her hair long and wavy again, with a centre hair part. Her chestnut hair has been highlighted through the lengths and ends with a dark blonde.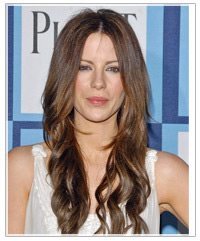 Here, Kate is wearing long, glossy chestnut locks with a centre part. The soft waves look fabulous with her oblong face shape and overall, her hair looks healthy and shiny.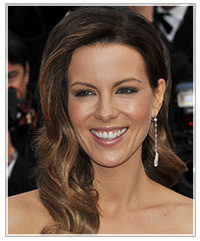 In another look, Kate goes for a side hair part and voluminous movie-star waves swept to one side. Her hair is the same shade of chestnut, which goes with her warm skin tone.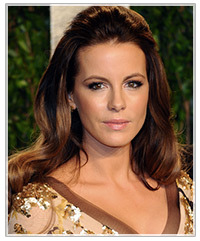 To mix it up further, Kate wears her long, wavy hair with the top swept back. This style has lots of height in the crown and looks great with her face shape. The chestnut color is still working for her as well.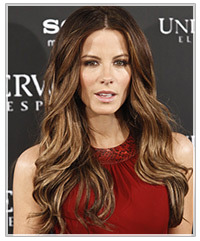 Kate looks great in her signature look, but she plays it safe. A trendy new haircut or dramatic dark brown hair color wouldn't go amiss.
Do you think that she needs a hair intervention, or should she keep her signature style?
To see how you'd look with any of the great hairstyles pictured in this blog, click on the above images to try the virtual hairstyles with your own photo!