Asian women can look very unique if they dye their hair blonde. The combination of a warm skin tone, dark eyes and light hair can be very flattering—but only if it's done right of course! Too often, Asian ladies who try to go blonde either go too light and end up with dry straw-colored hair, or they don't go blonde enough and end up with an orange brassy hue. Going from dark hair to a nice, natural looking blonde is always a tricky thing to do, but with a good stylist it can be done.
Helpful tip: It also doesn't hurt to print off some pics from TheHairstyler.com and take it with you to the salon, just to make sure you are on the same wavelength as your colorist. You can always bring your smartphone or tablet loaded with your Virtual Hairstyler as well, so they can see what final result you're going for.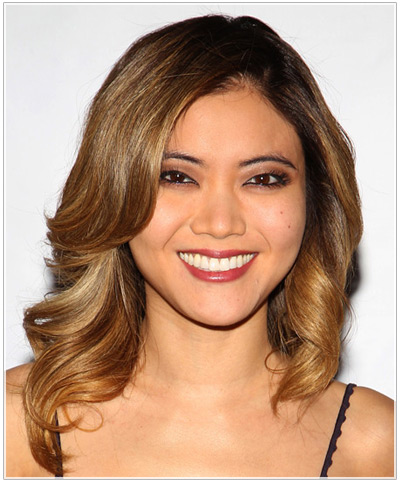 But back to the hairstyle! If you are Asian and looking for the perfect shade of blonde, then look no further than Jessica Lu's latest hairstyle. The colors and highlighting technique that was used here gave her fabulous results—the color wasn't too straw-like and it wasn't too brassy. Here's how you can get it if you have naturally dark hair:

Ask your stylist for a golden brown base, with honey blonde highlights throughout. This will give your hair a sun-kissed look rather than a fake, all over blonde result.


For products, choose a high lift color range that was specifically designed for dark hair. These color formulas have extra lightening properties and incorporate ash tones to get rid of excess orange and brassy shades during the coloring process.


Have your stylist leave a bit of your natural color showing at the roots. It doesn't have to be much, but even a centimetre or two of  your natural hair color will do wonders. Most people try to cover up their natural color as best they can, but in reality these darker roots are needed to match your eyebrows and complexion. For a more edgy look, you can go for a dramatic ombré technique. But, if you want to look natural like Jessica, keep the roots subtle.


To style, your new hair color will look fabulous when worn straight or curly. But remember that soft waves and curls (as seen here on Jessica) will enhance your highlights and give your 'do an all over softer appearance.


To maintain your color, visit your stylist for a toner touch-up when your hair gets brassy, and use shampoo and conditioner for color treated hair at home.


Shine serum or pomade should also be your new best friend. When lightening your hair so many shades, your locks will inevitably lose some of their lustre and shine. Always finish off your hair routine by working a shine serum through the lengths and ends. Or, use a spray if you want to flaunt a structured hairstyle or updo.
Finally, remember that you should adjust your makeup as well. Stick to warm shades of brown, beige and apricot to compliment your complexion and newly lightened hair.