Haley Bennett is a true style chameleon-she can wear any hair color and style and pull it off with ease. That being said, some looks are better pulled off than others.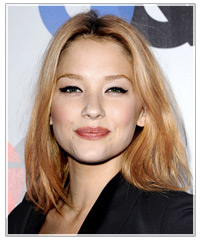 In this first look, Haley is sporting a messy shoulder length bob. The cut suits her face well but the colors are all over the place. Light blonde at the top and brassy at the ends, this looks like Haley was in the middle of transitioning from dark to light, or from red to blonde. If you are thinking of a dramatic color change, take note that you will have to do it in steps and may have to flaunt an in-between color for a while like Haley. Her makeup works well on her- the simple black eyeliner and sheer lipstick is just right.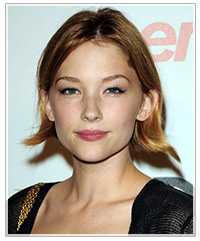 In another look, Haley has a deep golden blonde bob. This is a great cut for her face (although it would look better if it wasn't tucked behind her ears) and the color is more flattering for her face. Her makeup is similar to the other look, although this pink berry lip shade is much better than the reddish shade above.
What is your style verdict for Haley?
To see how you'd look with any of the great hairstyles pictured in this blog, click on the above images to try the virtual hairstyles with your own photo!