Actress Ellen Barkin has always rocked stylish haircuts throughout her career. With her oval face shape, full lips and high cheekbones, she can pull off anything from a pixie cut to long layers. She has a fair skin tone so light shades are the best option for her. When it comes to hair color, she has see-sawed between copper and light blonde, but which shade is the best one for her? Let's take a closer look.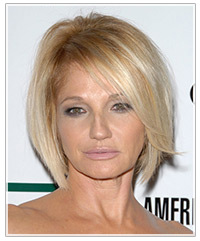 Here, Ellen is wearing a gorgeous bob with a side-swept fringe in a champagne blonde shade with golden lowlights. Overall, this color looks great with her skin tone and green eyes. The blonde looks natural due to the highlights, although the gold could be toned down a bit. The wheaty blonde highlights look good with her tanned complexion and light pink lippie.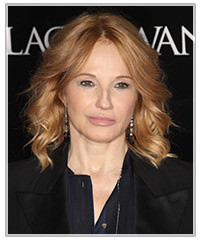 On the other hand, Ellen looks gorgeous in copper hair as well. Here, her hair is longer and wavy but it's her color that really warms up her face. Her skin has a gorgeous peaches and cream complexion with this shade and her green eyes become even more prominent.
What is your vote for Ellen Barkin-is she better as a blonde? Or cool in copper?
To see how you'd look with any of the great hairstyles pictured in this blog, click on the above images to try the virtual hairstyles with your own photo!