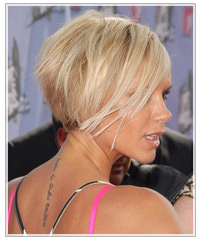 Victoria Beckham has finally found her niche in the world of fashion, and her changing image reflects her desire to be taken seriously as a designer. Gone are the oversized breast implants, dark orange tan and attempts at a music career. Victoria is all about high fashion now, and frankly, it works!
Victoria sports an ever-changing hairstyle—from a bleach blonde bob to an Audrey Hepburn-inspired pixie haircut, she isn't afraid to take risks and try something cutting-edge. Her makeup, on the other hand, has remained quite neutral throughout the years. Working with her dark brown eyes and olive skin, Victoria favours a soft cat's eye look, using brown shadow and eyeliner subtly smoked out around the edges. It's a classic look that works well with her feline features. Surprisingly, even though Posh is worth millions, she still uses drugstore products like Rimmel mascara and Bourjouis pearlised eye shadow.
In addition to being known for her impeccable dress sense, she is also famous for that pout. All that good fortune and the woman never cracks a smile. In any case, the Posh Pout can be achieved by using a neutral beige lip liner, and topping it off with Lancome Juicy Tubes lip gloss in Melon, her "must-have" beauty buy.
Finally, a shimmery bronze highlighter on the upper cheekbones completes the Victoria Beckham look (perfect husband sold separately).