Francesca Sandford's a member of the British pop girl group, the Saturdays. Frankie's admired for her super flat stomach (how does she do it?!), ultra-cool asymmetrical 'do, and her flawless doll face. Frankie loves to top up her tan and is usually sporting a bronzed complexion that is a bit deeper than her natural olive-toned skin. If you have the same complexion along with dark brown hair, this makeup will work for you too.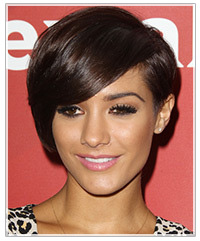 The eyes: Frankie's strong eyebrows are always groomed to perfection and create a great frame for her eyes. She brings out her intense amber brown eyes with dark brown eyeliner on both the top and bottom lash lines and oodles of mascara. Frankie's favorite eye shadow colors to wear are natural shades like soft brown and bone or ivory.

The cheeks: Frankie tops up her tanned skin with a matte bronzer applied to the apples of the cheeks. For a more glamorous look in the evening, she chooses a shimmery formula instead.

The lips: Frankie has a small mouth and thin lips, so she sticks to light pink and peach shades with a hint of gloss. This keeps the focus on her gorgeous eyes while making her lips appear full and plump.
For even more helpful makeup hints, see our full range of beauty articles and beauty blogs. You can even try some virtual makeup on your own photo or our model using our Virtual Hairstyler!