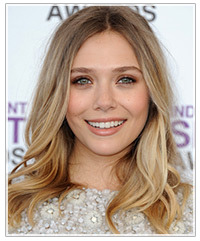 Elizabeth Olsen hails from the same made-for-TV family that Mary Kate Olsen and Ashley Olsen are from, so her rise to fame as an actress is no surprise. Of all the Olsen sisters, Elizabeth seems to be the most vivacious. She is rarely sulking in front of the cameras or wearing oversized unflattering clothes to make herself look edgier. Instead, she sticks to simple flattering hair and makeup that suits her petite frame and features. She is one of the lucky ones that can swing between being a blonde and brunette with ease, but her current blonde shade works perfectly with her peaches and cream skin tone and bright blue eyes. If you want to copy Elizabeth Olsen's effortlessly cool look, follow these simple steps:
1. Get the California girl hair by lightening your hair to a light beige blonde, with dark blonde lowlights throughout. Style it by adding loose waves and a centre hair part, with a bit of wax throughout to give it that "beachy" feel.
2. Â Stick to neutral makeup tones. Use beige, light brown and copper shades to bring out your eyes, followed by a matte bronzer on the cheeks and a nude lipstick to match.
Having a fabulous sense of fashion is a must for the signature Olsen look, so check out her red carpet paparazzi shots for some ideas!