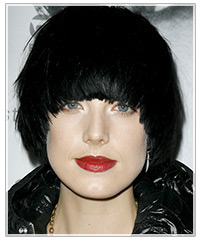 At first glance, Agyness Deyn is an unlikely supermodel. Androgynous clothing, a spiky peroxide pixie haircut and tomboyish demeanor is the opposite of what most models are made of. However, her quirky appearance has been welcomed with open arms by the fashion world, giving beauty a whole new meaning. Her British style is evident from her cutting-edge haircut to her Dr. Marten boots, and having a supermodel bone structure, she effortlessly pulls off a variety of looks. From edgy to ethereal, Agyness can do it all!
In one of her harder looks, she sports a blunt jet black bob hairstyle with shocking red lipstick. She keeps her eyes neutral with just a light coating of black mascara, and flawless porcelain skin. For women who like to look anything but boring, this hair and makeup combination is sure to turn heads.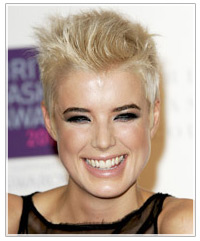 For a softer approach to Agyness' look, try her smoky eye makeup look. Using hues of brown and black, her eye shadow and eyeliner is blended out for an airbrushed effect, with soft peach cheeks. To keep the focus on her eyes, she opts for a soft nude peach lipstick with a hint of sheen.
See more Agyness Deyn's makeup and hair.