Like any hair length, short hair can easily end up in a styling rut. The great news about short hair, however, is that it's so versatile that just a few changes to the way you style your hair, some extra length in the right places or a splash of hair color can give your hairstyle a makeover. For inspiration, check out these ideas...

Asymmetrical Haircut:
One of the best ways to update your look and give short hair a modern edge is with an asymmetrical haircut. But if the thought of uneven lengths puts you off, even just a subtle asymmetrical cut (such as the one pictured to the left) is enough to breathe new life into your short look.
Backcombing:
Backcombing your locks is another great option that can change practically any type of short haircut. It instantly adds volume and funkiness and can even give fine hair a boost by giving the appearance of thick hair. Always remember to tease your hair gently when backcombing, and keep the look subtle to avoid a style reminiscent of the '80s.
Hair Color: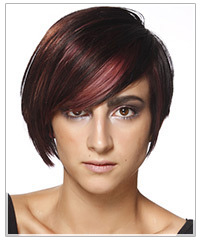 Short hair is a particularly great length for adding splashes of hair color in a peek-a-boo effect. Because short hair moves around so easily, the hidden color really gets the chance to shine. Try the look in contrasting colors for a big impact.
Hair Texture:
One of the quickest way to immediately update your short hair without resorting to hair color or length changes is by switching up your hair texture. Using hair gel or wax to add definition to straight hair strands (as pictured), giving yourself curly hair or scrunching your hair into waves are different options that you can try which will suit any mood or occasion.
Bangs:
Our final short hairstyle makeover idea is the ultimate way to change your look - bangs! If you've never tried bangs before then we recommend going for side-swept bangs (pictured left) as they are the most flattering and can be pinned away easily if you decide a fringe isn't for you. If your really don't want to risk having bangs cut then you can try a faux styling trick by adding a deep side hair part to your locks and then sweeping your hair length across your forehead to create the illusion of bangs.
With these hairstyle makeover ideas you should be able to give your short locks a much needed new look.
Let us know which idea is your favorite or add an idea of your own by leaving a comment below!
You need to be a member to post comments. Sign up Or Login