Feminine hairstyles aren't just for those with long locks. Short hair can also boast a gleefully girly look with the right kind of styling. As shown below...

 
Flicks and Curls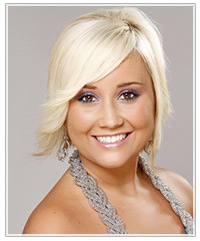 If your short hair has some length to it then glam it up girly-style by adding some flicks or curls through your mid-lengths or ends with the help of your hair straightener and curling iron. Adding the flicks and curls around your face will provide an extra feminine touch by giving softness to your facial features.

 
Hair Accessories and Earrings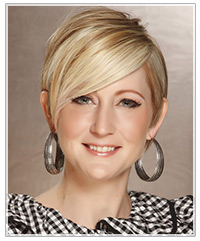 Any short hairstyle can be turned into a pretty style with the help of some hair accessories and earrings. For your hair accessories, think sparkly clips with lots of bling in the shape of flowers or butterflies. Earring wise, the bigger and danglier the better, and if your earrings have some shine to them then you're on the right track!

 
Length Around Your Face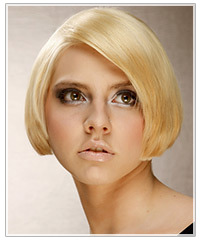 One way to ensure that your short hairdo looks feminine to begin with is with a little length. If you're short hair already has length, then show it off to its best advantage by styling your hair softly around your face. This will automatically create a feminine finish.

 
Side-Swept Bangs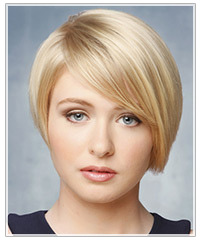 As with a little length, having side-swept bangs incorporated into your shorter 'do will help to establish a feminine look. Not only will side-swept bangs offer you lots of pretty softness, but they will also draw attention directly to your eye area which you can then play up with lashings of mascara, soft eye shadow and touch of eyeliner for the ultimate short feminine hairstyle result!

 
To see how you'd look with any of the great salon hairstyles pictured in this article, click on the above images to try the virtual hairstyles with your own photo!