For many of us, the urge to chop our hair off is just too much to ignore! Whether you have a chic bob or ultra long locks right now, you may just want to consider going for the chop after you see these new hairstyles. Chosen especially for black women and modelled by some of the hottest celebs on the circuit, these hairstyles are guaranteed to turn heads this summer. So without further ado, here are the latest short hairstyles for black women: 2014 edition!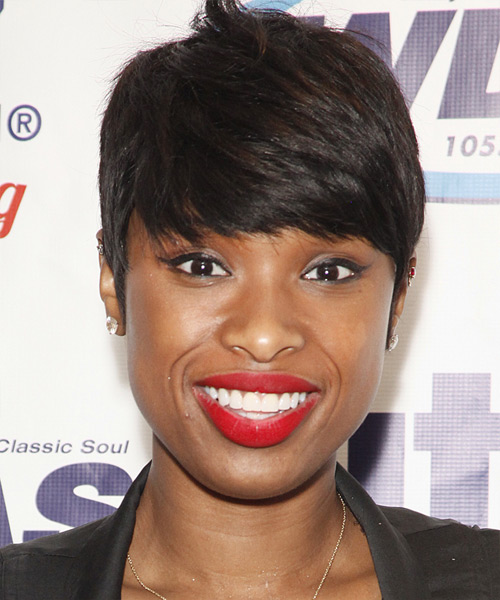 Jennifer Hudson has become quite the short hair icon lately and with good reason. She is constantly changing her style up but no matter what she wears, she always looks fresh, feminine and fabulous. Gone are her long extensions—now, Jen's all about the short and sassy 'dos. This particular hairstyle looks fabulous on women with oval, oblong, and diamond shaped faces, especially those with a fabulous smile like Ms. Hudson. The sides and back are neatly tapered in while the top is longer with lots of layering throughout. This no-part, side-swept hairstyle is great when you want to go for an edgy, fashion-forward look. The rich brown-black color is an added bonus too!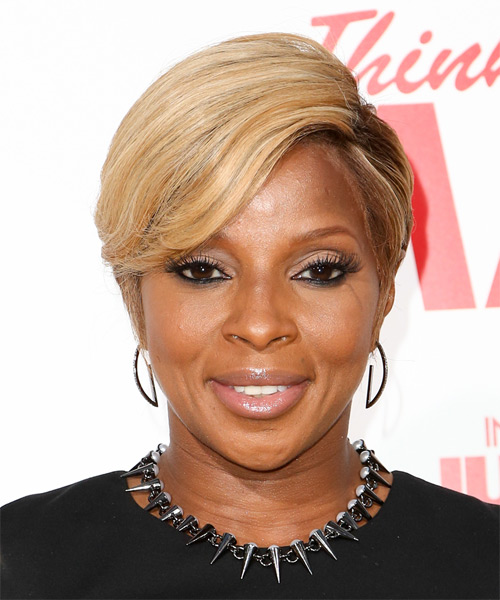 Mary J. Blige is looking fabulous as usual in her blonde 'do here. Mary J. never seems to age and can pull off cool hairstyles with ease, but this particular cut will flatter almost anyone. This haircut features tapered sides with longer top layers that flip to one side, stemming from a deep side part. This creates a sexy peek-a-boo effect and is also a great way to slim down the face (if needed). Although the cut is great, Mary J.'s color is the mane attraction here. Her light blonde shade looks gorgeous with her skin tone and really brings the focus to her dark eyes. If you want to attempt this color, make sure you find a good colorist. You want to end up with a glamorous honey blonde shade, not brassy orange or yellow!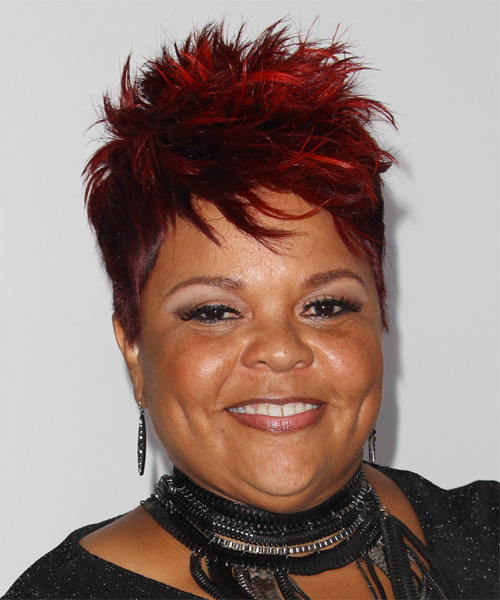 And carrying on with the short and sassy 'dos is Tamela J. Mann What's not to love about this fiery, fabulous hairstyle? Tamela looks hot in this spiky cut that features closely tapered sides and wild, jagged cut top layers that provide maximum volume in the crown. If you like to turn heads, this is definitely the 'do for you. It will suit women with round, oval, heart, and triangular shaped faces who have a straightened hair texture the best. There is tons of versatility to be had with this haircut—wear it styled windblown and wild à la Halle Berry (as Tamela models here), or wear it slicked down for a chic, sleek look. But enough about the cut—let's talk about that color! Tamela's ombre red tones go from a deep garnet shade at the roots to electric red at the ends. Although this color would require a fair amount of upkeep to look fresh, the results are worth it.
These are just three of the hottest short hairstyles for black women for the summer, Keep checking the site for more ideas; new styles are added every week!