Side-sweeping is one of the most popular ways to style bangs and is a great choice to make if you are trying bangs for the first time.
Side-swept bangs are soft, flattering and versatile enough to suit any hairstyle or be styled out of the way with hair clips or a headband when you want to alternate with a bang-free look.
The side-swept fringe is a great style choice for most women—it works on all face shapes and can really add some much-needed structure to a hairstyle. It can also be worked in to any length or hair—from long to short, this style of fringe is extremely versatile. If you are considering a side-swept fringe then you are in luck! We've rounded up some great hairstyles that work with a side-swept fringe. Keep reading to find out which one is perfect for you.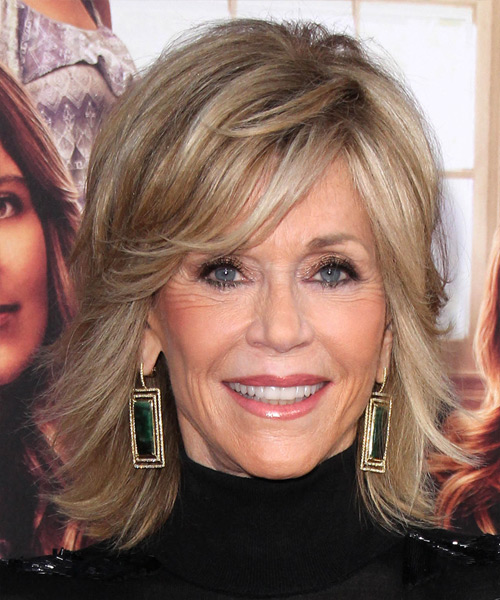 Jane Fonda looks stunning in her layered shoulder-length 'do and matching fringe. These bangs are swept to the side and flicked out slightly to match the rest of her hairstyle and provide some sculpting to the face. This is a great trick to add width to slimmer faces, so take note if you need to balance your proportions out. Jane's fringe gives her some forehead coverage too, which is another bonus of this hairstyle.
Marla Sokoloff shows us another way to wear a side-swept fringe here for a more casual look. Her deep side part gives way to a smooth bang that sits to the side and blends in with the rest of her 'do. This is a simple look that is perfect for women who like low-maintenance hairstyles and have a naturally straight hair texture. Marla's bangs would look cute if her hair was swept back into a ponytail as well.
Charlotte Ross shows us another variation of the side-swept bang that works well with very long hair. Charlotte's long blonde hair is layered throughout the lengths and ends and around the face. Her medium thick bangs are blunt cut and sit nicely to one side. This side-swept fringe adds some forehead coverage while breaking up the heaviness of her thick long locks. This is a great fringe style for women who have ultra long hair that prefer some hair around the face, especially when they wear it up.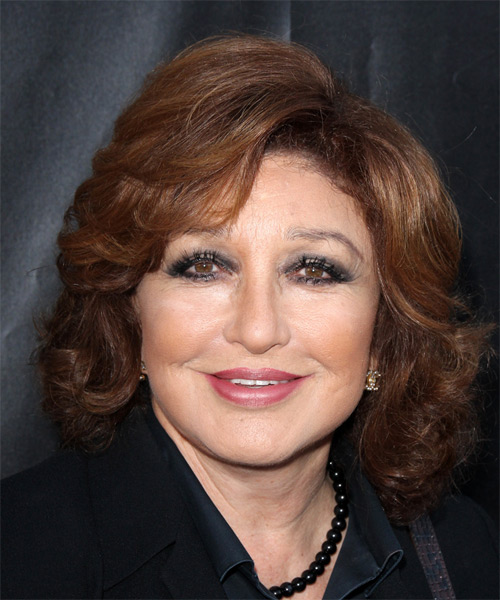 Here, Angelica Maria flaunts a more classic version of the side-swept bang that would suit a structured, shorter hairstyle. If you love to curl up your layers then this fringe is definitely for you. Angelica's eye-skimming fringe has been curled and swept to the side, with a voluminous 'wave' effect at the part. This matches her high-volume layered hairstyle and will suit women who have similar 'dos.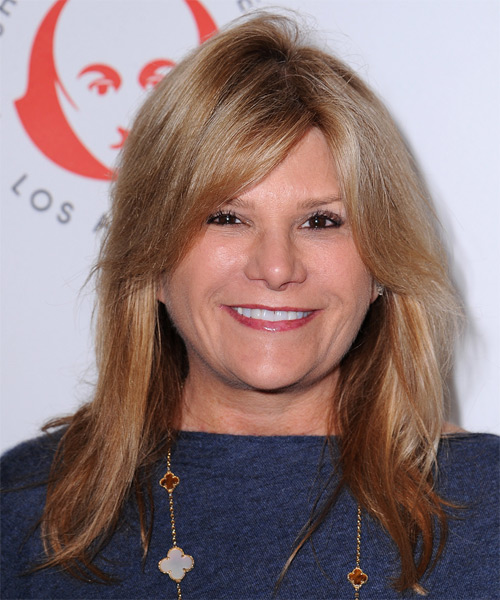 Finally, we have Lisa Paulsen with her thick and messy side-swept fringe. This fringe is perfect for shag hairstyles and for women with thick and/or coarse hair. This fringe is longer than most side-swept hairstyles and provides more forehead coverage as well. Lisa's bangs give off an edgy rock-chick look so if you are a fan of trendier hairdos then this one may be for you. The part on this fringe is just off centre giving Lisa a peek-a-boo effect too, which is a cool way to finish off her hairstyle. This side-swept fringe is ideal for women who like messier, bedhead hairstyles so give it a try if this sounds like you!
How to Style Side-Swept Bangs


Apply Hair Styling Products
The secret to achieving and maintaining side-swept bangs are hair styling products. To get the style of your bangs off to a great start, use a hair product such as a straightening balm and apply it by squeezing a small amount into your palms and then distributing it evenly through your bangs.
Use a Radial Brush
Next, you'll need to make sure you have a radial brush on hand. A radial brush is perfect for styling bangs because it allows you to pull your hair straight and also curl your ends under to achieve the right look. Radial brushes come in all different sizes and the size you'll need will depend on the thickness of your hair.
Blow-Dry Your Bangs into Shape
To blow-dry your bangs to the side:
Clip the back and side sections of your hair up and away and just leave your bangs out.
Place your brush beneath your bangs and hold your hair to the side, remembering to hold some tension between your hair and the hair brush.
With your blow-dryer on a low setting, apply heat to your roots and then move your blow-dryer along the length of your bangs while stretching your hair out to the ends with your brush. Repeat until your bangs are dry and finish with a shot of cool air to seal your style into place.
Apply Hairspray
To finish your side-swept look, hold a can of hairspray at arm's length and apply a minimal amount of hairspray to your bangs.
And there you have it! Easy how to steps for achieving side-swept bangs.