Eyes closed and mouth open. That's how I looked because I was horrified and sad. It all came over me when, glued to my TV, I first saw Sarah, Kim, Cynthia and Kristin at the premiere of their movie Sex and the City . You might be wondering why I reacted this way, so I'll get straight to the point: their hairstyles were so boring I just couldn't believe it.

I was sad because I was disappointed with the styles of my favorite stars. But more than that, I was sad because I realized that these celebrities just don't understand how to make the most out of their hair. It happens to all of us, but it saddened me even more to think that with all the fame and money in the world it's still so hard to get style right.
So, I thought, what can I do? If these stars can't get it right, who can? My only option is to jump on the bandwagon and join the likes of Carson Kressley. No, I'm not going to make them over by stripping them down to their underwear and asking them if they feel sexy; but I am going to give them hairstyle makeovers. Using TheHairStyler.com's virtual hairstyler let me show you some hairstyles I think would have looked so much better.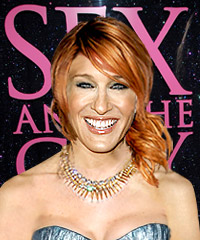 Sarah Jessica Parker's the biggest star of the show and the best place to start with my makeover advice. Have a look at the updo I've given her in the photo. I'm certain this one would've turned more heads and totally wowed the crowd. It's a sassy and sexy hairdo that sits really well on her shoulders and is definitely the right hairstyle for her face shape. And it would have worked better with her accessories too: her designer dress and neck jewellery wouldn't have been hidden under all those waves, but would have sparkled for everyone to see. You must admit, this style is much better.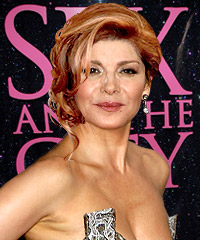 Next in line is Kim Cattrall. Her original hairstyle missed the mark for me too, and not so much because it didn't suit her, but more because it looked like it was thrown up and pinned back in 5 minutes flat. Clearly she was mistaken when she thought that something more casual would work for the occasion.
Sometimes it's good to take a bit more care, and sometimes you need someone objective to tell you that. Have a look at the improved hairstyle I've given Kim. I thought something more shocking would be better. In my hairstyle suggestion, rollers create height and body; but what's most important is how her hair's been elegantly dressed to show curvaceous waves, and pinned to the side to create a stylish asymmetrical shape. This hairstyle's better for a special occasion, and it would suit any age.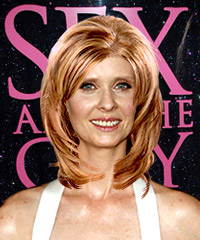 Cynthia Nixon needs a bit of a makeover too (she really should have uploaded her photo to TheHairStyler.com to try on some better hairstyles). In my version of her red-carpet hairdo I would've dressed her hair in a way that would've made her the talk of the town. The hairstyle I've given her is exquisite and foxy and would've definitely brought out the flamboyance that's hiding somewhere under that expired bob of hers. Layers through the front of her look would've created more shape and softened her neckline more- all in all, screaming "SEXY" quite a bit louder than before.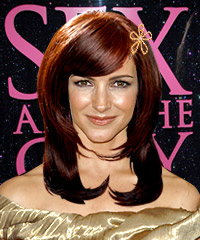 We know last definitely doesn't mean least- and in this case Kristin Davis certainly isn't least in need of a makeover. I stared at her original hairstyle for hours and realized "your forehead is just too exposed!" I think soft and sexy side-swept bangs would be a better hairstyle for her face shape and would spice up her look more. Yes, she has a pretty face; and yes she wants to show the world, but that doesn't mean there aren't better hairstyles for her. For example, bangs would have worked well with her wavy locks, and even a barrette to match her dress would have been a good choice to make her dark locks look a little less blunt.
So even stars can get it wrong sometimes, and that's because they're only human after all. I guess there are two morals of this story then. The first is that everybody needs advice- everybody (so remember to make the most out of your hair appointment)! The second is to think about your overall look before stepping out that door. Just because your dress and jewellery look drop-dead gorgeous, don't think people aren't going to notice your hair. After all, it's the face and head that people notice first. So if the hair ain't right, neither is the whole look.