When you've got your hair sorted into a great length and cut, it's only natural to want to make sure it's shown off to its best advantage, and that's where these makeup tips come in handy!
Short Hair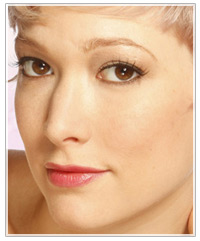 When you have short hair your whole face is on show, and when everyone can see your face, they are instantly drawn to your eyes.

Ensure your eye area is ready to receive all the attention by making sure your brows are groomed and any gaps filled in with an eyebrow pencil or eyebrow shadow.

Next, apply a taupe eye shadow that has a pearly sheen in it to your entire eyelid and finish with a few coatings of black mascara and some subtle eyeliner. This will give you a flattering, simple-yet-stunning finish for your eyes. If you want to go for a bolder eye shadow choice, then by all means go ahead, just choose a shade based on your eye color to really make your eyes pop in the most flattering way.

To finish your look, keep your complexion flawless with some well blended foundation and use a rosy lip gloss to add a subtle splash of color to your lips.
To see how you'd look with the salon hairstyle pictured in this article, click on the above image to try the virtual hairstyle with your own photo!