For a look that will suit any occasion, it's often best to opt for a natural makeup finish that will bring out the best in your key features. To achieve this, play up your eyes, cheeks and lips to your best advantage with these natural finish makeup tips.
Eyes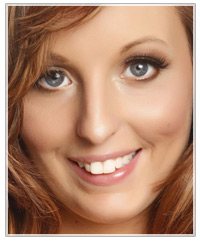 Nothing ruins a look faster than clumpy lashes overloaded with mascara. Mascara should be used to bring your lashes out, not to draw attention to them in a negative way. For the best finish, choose a mascara formulation that will build on the natural beauty of your lashes. For example, if you have small, short lashes then opt for lengthening mascara, or if your lashes are long, get mascara that will inject some volume so that they get shown off in the best way possible.
Application is also the key to a great mascara look. Ensure any excess mascara has been gently wiped off your wand with a tissue and then put the wand right at the base of your lashes and wiggle it back and forth while pulling it slowly upwards to the tips of your lashes. This should put the majority of the mascara at the base of your lashes for definition, and a lighter application which naturally tapers at the ends of your lashes for a clean, natural finish.
To keep the rest of your eye makeup natural looking, apply neutral tones of eye shadow. Taupe, beige and natural earth browns are great options, as are light flushes of pink or peach which can be blended into your crease to create a flattering touch of warm, natural color.
Cheeks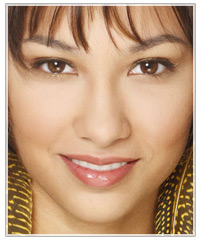 For cheeks that look just flushed, apply your blush after adding foundation, but gently wipe any excess foundation off with a tissue in the areas where you are going to apply your blush before dusting the powder on. This will ensure a much more natural 'flush' to your cheeks because your blush color sits on top of and shines through with your natural skin tone and not on a fake layer of foundation. As for the color, opt for an opaque pink which can be blended and layered until you get the right color for your complexion.
As a general rule, and especially if you want a natural finish to your blush, always blend, blend, blend. Obvious lines or circles where your blush has been applied will ruin your finish.
Lips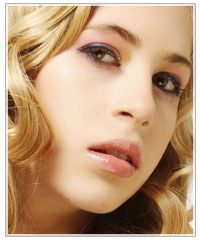 For flawless, natural lips with a hint of color, get a lip liner in the same color as your lipstick in a nude/pink shade. Smile enough so that the skin or your lips is pulled smooth and tight and then fill in your lips with the liner. Next, use a lip brush for precision and paint on your lipstick. To make the color slightly more subtle and to get that great natural looking finish, dab on a smidgen of clear lip gloss.
By following these tips you should achieve a natural makeup look. If you want to see how a natural look will suit you without wasting your makeup, apply some virtual makeup to your own photo today using our Virtual Hairstyler.