Behold the man bob: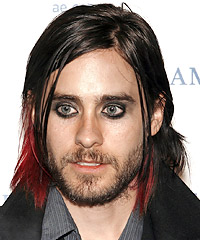 It's the male version of this (of course, Jared Leto's man bob is a little more emo and grungy than Gwyneth's bob haircut with a center part, but it's basically the same deal):
I would like to officially euthanize the man bob and dance on its grave, singing gaily "yippee yippee!"
But no sooner than saying that do I realize the curious predicament of men's hairstyling at the moment. Men's hairstyles are boring and conservative, and it's probably largely the fault of guys like me.
I hate the man bob. It's just lame, that's why. I mean, it's too feminine, isn't it? It's a women's hairstyle, and it always has been. Vidal Sassoon made it famous for women, and women today like Katie Holmes have continued to make it famous. Wearing a man bob is basically tantamount to wearing a dress and thinking your cool because you're, like so obviously, messing with gender stereotypes.
That's what I say, but then I realise the man bob is basically all we've got—men that is. Since men's hairstyles are so boring at the moment appropriating the bob, in actual fact, is quite cutting-edge. So maybe I don't want to dance on its grave.
Men today either have short textured hair, very short textured hair, no hair, or college-boy hair (which is anything from Tom Cruise in Mission Impossible to the Jonas Brothers). Maybe it's a cultural thing, but today's man doesn't experiment much. Sure, we're "metro" and all, but essentially conservative. For a while David Beckham was doing some regular craziness with his hair, but now he's just content with... oh what a surprise... a short spikey crop.
So I take it back. Bring on the man bob. I also applaud any man wearing a man bob—even Jared Leto. Heck, even Billy Bob Thornton would get my respect if he did his radio interviews with a man bob. I'm thinking that man bobs, if we try hard enough, could be the dawn of a new era: an era of more forward thinking and experimental men's hairstyles. So, say hello to my new hairstyle: