All-over blonde is another popular option, but which shade to choose? Whether you are a natural blonde looking for a different shade, or you are a natural black, brown or red-haired beauty looking for an image overhaul, the kind of blonde you choose is so important. A blonde that doesn't match your natural complexion will look fake and cheap, so make sure you choose the right one. If you have golden undertones, you will want a warm blonde, whereas if you have pink undertones you will need to go with a cool or ash blonde. Here is an example of how the tone of blonde can affect your overall look:
 
Naomi Watts has a gorgeous Gwyneth Paltrow shade of icy blonde in this photo. However, her skin tone has warm undertones so her complexion looks ruddy and red, even though the Nordic blonde shade matches her light blue eyes.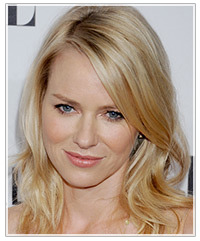 On the other hand, Naomi in warm golden blonde looks like she has a rich, creamy complexion while her eyes are still intensified by the yellow undertones in her hair.

 
Which shade is right for you?