Has anyone seen Vanessa Hudgens' new "soccer mom" look recently? Apparently, it's for a role in a film, which is a great relief because a middle-age inspired short layered haircut does nothing for this screen cutie's face. Actresses usually cut their hair in a bid to be taken more seriously in their craft, so it will be interesting to see what this new movie will be all about, and if it does in fact give her some cred.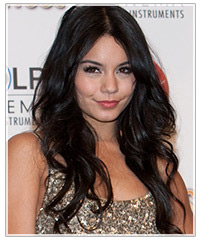 In the meantime, let's look at how Vanessa Hudgens' has rocked some longer looks in the past, pre soccer-mom cut.
Vanessa's classic look here (right) is long and dark, with loose waves that have been slightly tousled. The centre hair parting works well with her face shape and delicate features. Her makeup is spot-on in this photo, as she looks natural yet glam in dark chocolate eyeliner and glossy peach lips.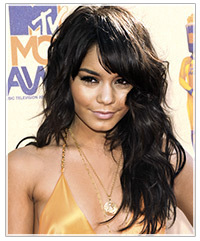 Vanessa is blessed with thick hair, which looks fabulous when side-swept bangs are added in. Here (left), Hudgens goes for the beach hair look that shows off her layered waves and thick fringe. Her make up, however, is a disaster. There is such a thing as having a lip that is "too nude" and this is it. Vanessa has chosen a chalky light nude shade that washes out her skin tone completely. A bright pink or peach would have added more star power to this ensemble.
See more of Vanessa Hudgens hair and makeup looks.