Denise Richards has been papped in some seriously unflattering photos lately, and while the main culprit is her makeup, one has to wonder- are her blonde days over? Denise loves to been tanned and whether natural or fake, she has become much too orange to pull off blonde. Let's take a closer look and see what is going wrong with Ms Richards.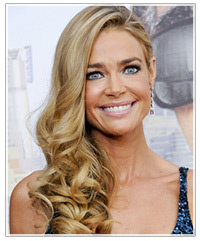 In a recent photo, Denise is looking very tanned with brassy blonde hair. Her makeup works fairly well even though the eyeliner is a bit heavy, but her hair and complexion are not working in harmony. Both her hair and skin look unnatural and very "matte" for lack of a better word. Denise would suit brunette hair much better here.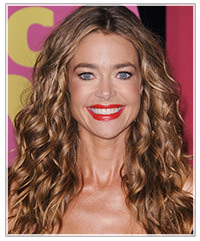 Ignoring the horrible makeup, this hair color is much more flattering with Denise's tanned skin and instantly makes her look years younger-even under all of that red lipstick and black eyeliner!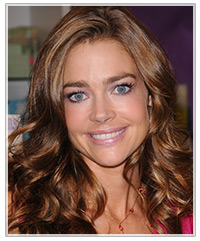 Here, her hair is darker and her makeup is lighter which produces better results. Denise looks more sophisticated and youthful, not to mention more natural.
Do you think Denise needs to darken her hair up, or is she in need of a complete make-under?
To see how you'd look with any of the hairstyles pictured in this blog, click on the above images to try the virtual hairstyles with your own photo!