Rebecca Black unveiled a new look recently that drew in some mixed reviews. The American singer added some funky pink tips to her chestnut hair and styled it up with a side hair part and some loose waves. Rebecca usually wears her hair straight, sometimes with a fringe, but with her new color it seems she wanted to go for a wavier look.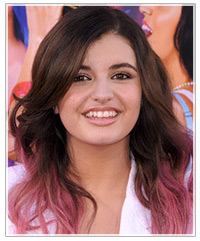 The raspberry pink color is a beautiful match with her chocolate tresses- in fact, her hair colors look absolutely delicious! The soft waves also suit her round face shape nicely. The only thing that let this down was that the ends were faded out, leaving her hair looking dry and lackluster. If you want to dye your tips a bright color, make sure to top it up regularly so the color remains vibrant.
Another problem with this look was the technique. Rebecca's colorist could have left some more brunette throughout so that her hair didn't turn out completely brown on top and then all pink on the bottom, without any blending. Transitioning your hair color from top to bottom can be difficult, but with the right colorist it will look très cool.
What's your verdict on Rebecca Black's hair—is it a winning look?
To see how you'd look with the hairstyle pictured in this blog, click on the above image to try the virtual hairstyle with your own photo!