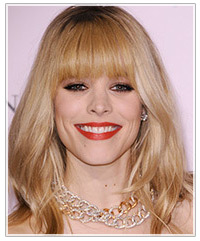 What do you think about Rachel McAdams' latest hairstyle (right)? The Canadian beauty has stayed with her trademark golden blonde shade, but instead of her usual loose, layered 'do she has added a thick, blunt fringe that ends at her eyelash line. This style of fringe is edgy and cool but it is not for everyone. They grow out of shape fast, so frequent trips to the hair salon is a must!
Long fringes suit oval and heart shaped faces best, but can also work on oblongs like Rachel. Women with a strong jawline like Ms. McAdams look better with an arched line rather than a straight across blunt line, and also benefit from layering in the bang area to break it up a bit.
Rachel's bangs are slightly too thick and heavy, creating a boxy look on her face. Her stylist should have taken the length up just slightly and added face-framing layers to get rid of the straight lines around her angular face. Pulling the hair back into an updo, bun or chignon would also get rid of some of that visual heaviness.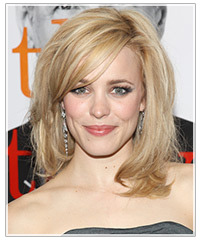 Stylishly cool Rachel can pull this look off (left), but overall she is better suited to grown out bangs or a nice long side-swept fringe. What's your opinion on Rachel's new bangs?
 
To see how you'd look with any of the great hairstyles pictured in this blog, click on the above images to try the virtual hairstyles with your own photo!