Blanca Blanco wowed the red carpet recently with her take on the "big hair" trend. This ultra-voluminous loose style looks gorgeous and glam, plus it's easy to create. This is one look you'll want to try this season, whether it's for a Christmas cocktail party or your New Year's Eve bash. Here's how to get the "big hair" look for your big night out: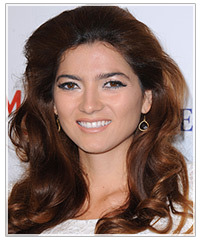 • Start with sleek hair. Depending on your hair's natural texture, this may be easier said than done. If you have very curly hair, you're going to have to work harder to get those locks straight, but your silky, shiny hair at the end of it all will be well worth it.
• Once your hair is smooth, set it in large rollers. To avoid over-styling and stressing your locks out, use Velcro rollers rather than hot rollers.
• After your curls have been set, unroll your hair and start adding volume to the entire head by backcombing the roots. Use a fine-tooth comb to get the most body.
• After your hair has been teased, use a comb to smooth it away from the face, spraying it in place.
Hair Tips:
• Make sure you cover all of your teased areas by smoothing the visible hair over it, especially around the face.
• Use a strong but flexible hairspray to hold your volume but allow your hair to move.
• If you have very long or heavy hair, you may want to give your hair a helping hand and use discreet hair pins to keep your hair from falling flat over the course of the evening.
To see how you'd look with the hairstyle pictured in this blog, click on the above image to try the virtual hairstyle with your own photo!