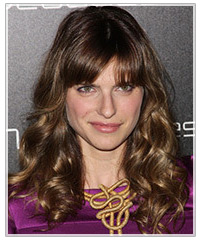 American actress Lake Bell has spent most of her career as a buxom brunette and is lucky enough to have a skin tone that goes well with her hair color.
In this photo, Lake is in her natural brunette state, rocking an eye-skimming fringe and long, wavy lengths. Her cool skin tone and eye color are warmed up by the medium golden brown tones in her hair. Overall, this color gives her a natural, sophisticated look.
To see how you'd look with Lake's hair color and style, click on the above image to try the virtual hairstyle with your own photo!