Katie Cassidy is one of those actresses that shows up with a completely new look at virtually every event she attends. Whether it's her hairstyle, hair color or makeup look, Katie is a real style chameleon. We love the fact that her looks are always simple and easy to copy, but still look cutting edge and right on trend.
Katie has worn a variety of cool looks both on and off the carpet throughout her time in the public eye, which has given us some amazing hair and makeup ideas. Katie is not afraid to try new cuts, color or bold makeup, so she is bound to turn heads wherever she goes. An example of one of these looks is her latest vampy hair and makeup. Katie is a fan of messy updos and here, she is working a fabulous beachy hairstyle paired with ultra-glam makeup. Quite the contrast, but it works! Here's how you can get this Katie Cassidy hairstyle and makeup at home: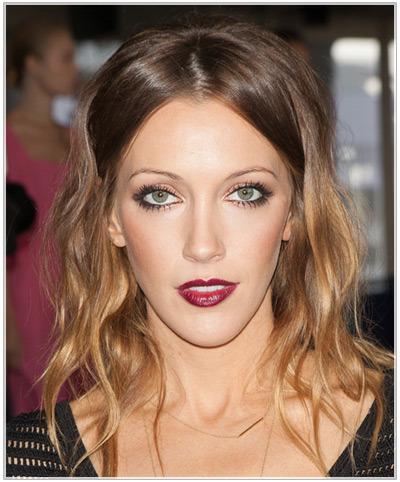 The Hair
One of the first things you notice about this hairstyle is one, the fantastic shine and two, the lift created in the crown and throughout the lengths and ends. To get this shine, obviously you need to nourish your hair from the inside out by eating a healthy diet, drinking lots of water and exercising. But, you also need to help your hair from the outside. Apart from using high quality shampoo and conditioner, you also need to give your hair a bit of TLC now and then. Cassidy told Daily Glow that her secret is to use Lea Journo Revive French Plum Oil for shine, so you may want to give that a try.
To style this look, apply a volumizing root booster to your towel dried hair and add lift by pulling the roots straight up with your brush as you dry them. If your hair has natural waves, you can then add a volumizing mousse to the lengths and ends, and finish drying it with a diffuser. If you have straight hair and need to add those beachy waves in, simply use a curling wand on the lowest heat setting to get these soft waves. Use small sections and wrap them around the barrel 2 to 3 times, leaving 1 to 1.5 inches free at the end. Once all of the hair has been curled, use a wax styling product to separate the waves out and then use hairspray to hold.
The Makeup
In contrast to Katie's relaxed beach-boho hairstyle, her makeup is 100% evening glam. This hair and makeup combo shouldn't work in theory, but in reality it looks fabulous. Katie has used a warm beige-brown eye shadow and black eyeliner to bring out her eyes. Try extending both lash lines outwards at the corners for a sexy feline look.
On the cheeks, use a warm beige sculpting blush in the hollows of the cheeks, followed by a medium rose blush on the apples of the cheeks. Complete this look with the pièce de résistance- dark wine-hued lipstick. This gives the makeup an overall vintage feel, which makes a cool contrast with the modern, messy hairstyle.
If you need to update your makeup bag before you create this look, you may want to check out Katie's favorite brands first. She loves Nars lipstick and Giorgio Armani foundation.