Kerry Washington isn't the type of girl to stick to tried-and-true makeup (like Jennifer Aniston, for example). She likes to wear the latest shades and go for bold, bright colors that always look gorgeous, never garish. If you want to brighten up your makeup bag, try out Kerry's latest look—electric purple eye shadow and oh-so-rosy cheeks.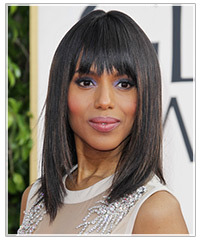 The key to this look is finding the perfect purple that has oodles of pigment in it. Kerry has gone for a grape shade with lots of metallic sheen that reflects light and looks trés lux. When you are shopping for your shade, buy a high-pigment loose powder that has a light-reflecting finish for best results.
To apply, use a makeup brush and work it into the eyelid using small circular motions. Layer it up if you want it more dramatic looking. For the ultimate head-turning eye shadow, wet your brush slightly before dabbing it into the powder. This will create a high-sheen 'paste' that can be applied to the eyelid, or as eyeliner if you are using a thin applicator brush. Finally, use black or dark brown eyeliner and mascara to finish it off.
Try to keep your eyes as the main focus of this look by using soft pink blush and lipstick like Kerry's. This futuristic look is perfect for a night out on the town!
For even more helpful makeup hints, see our full range of beauty articles and beauty blogs. You can even try some virtual makeup on your own photo or our model using our Virtual Hairstyler!