Is Carly Rae Jepsen trying to shake off her sugary-sweet pop princess image with her gothic-inspired look that she has been flaunting recently? Maybe she is, maybe she isn't. But one thing is for sure—this look is working for her!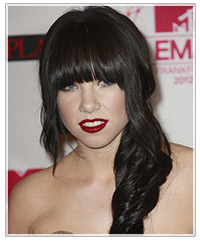 Carly is rocking a shade of cool deep brown hair that sets off her porcelain skin and blue eyes, giving her a Snow White kind of vibe. Her long hair has been curled and swept to the side with her trademark fringe skimming her eyes, creating a coy peek-a-boo effect.
On the makeup side of things, Carly plays up her fair skin with a flawless foundation and deep brown eyeliner to match her hair color. She has applied a bit of bronzer to the hollows of her cheeks that not only sculpts her face but also gives her a bit of color, which ladies with fair skin and super dark hair may need from time to time. Finally, her blood red lipstick tops this exotic look off. Carly has chosen a blue-based red that harmonizes with her cool brown hair color and icy blue eyes.
What do you think of Carly's new look? Should she stick with the gothic look or go back to her pop roots?
For even more helpful makeup hints, see our full range of beauty articles and beauty blogs. You can even try some virtual makeup on your own photo or our model using our Virtual Hairstyler!