Helen Mirren just keeps getting better with age! Not only does she always look graceful and sophisticated, she never ever gives off that dowdy vibe that so often appears in women after a certain age. Helen shows us that you can look confident and trendy at any age with the right hairstyle and makeup choices. Her most recent look is particularly chic, from her sophisticated makeup palette to her gorgeous shade of champagne blonde hair. If you want to mimic Helen's look, here's how you can get it: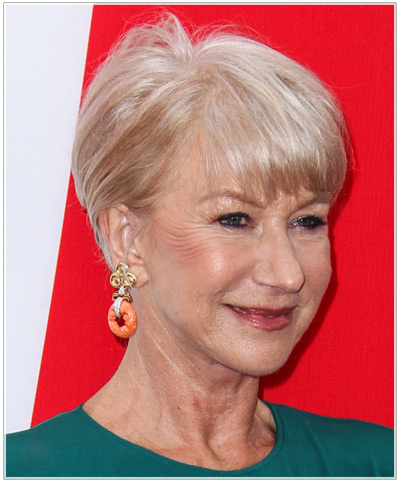 The Hair:
Helen's natural color at this point would obviously be grey or white. Helen could easily pull off either color but instead she flaunts a light icy blonde shade that is almost white in tone. This is a great technique for ladies who want to hide their grey or white hair but also want it to look more natural than dying it to their natural color from yesteryear (say, brunette or black for example). To ensure that you get the best shade possible, ask your stylist to use an ash toner to get rid of any brassiness in the hair and keep it a light smoky blonde shade. Of course, this technique will only work if you have the complexion to match. Those with medium to dark skin tones can get an equally lovely color that matches their complexion by choosing a shade close to their eyebrow color for the most natural-looking result.
The Makeup:
When asked about her beauty secrets, Helen Mirren gives credit to exercising for at least 15 minutes a day, drinking lots of water and getting lots of rest. In fact, she recommends getting more rest the older you get (which most of us do the opposite of). Having a great base is always the best way to start out a great makeup look, so take care of that skin!
In this particular look, Helen has chosen a makeup palette that is bold enough for the evening but still looks natural and soft. She has blue eyes, which she has highlighted here with a beautiful plum eye shadow and warm brown eyeliner on both the top and bottom lash lines. Helen has small eyes too, so to counteract this effect she has swept her eye shadow past the outer corner to make them appear larger. Defining the brows is also essential when you are over sixty as the eyebrows tend to become thinner and lighter. Helen has used a soft smoky beige eyebrow pencil to shape and define her brows, which creates the perfect frame for her face. Make sure not to forget this step in your daily beauty regime!
Helen's lips and cheeks also have some great color to them, which harmonizes with the jewel-tone theme on her eyes and in her emerald dress. A soft bronze shade has been applied to the apples of her cheeks and swept back towards the temples- a great way to sculpt and define the face. On her lips, Helen is wearing a fabulous medium berry pink shade topped off with lots of gloss. Wearing a gloss or semi-gloss is a must-do for women with mature skin as it gives a plumping effect to the lips and counteracts the look of fine lines around the mouth.
What do you think of Helen's latest look?