Fact: Women who polish their appearance with makeup are viewed by their peers as being more competent [Source: New York Times]. We're not saying you need to doll yourself up everyday to get respect at work, but simply "polishing" yourself up can go far, especially if you work in a competitive environment. Here are some killer looks to help you rock the office or boardroom: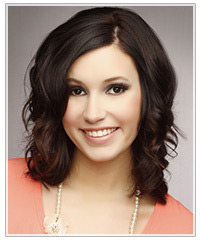 Our model is looking trendy and polished in soft grey smoky eye makeup that has been pared down for the daytime. She is wearing a pretty peach blush on the cheeks and a pearlescent peach lipstick that adds just enough glow to keep her looking fresh and energized. This is a great palette for fair skin types.
Daniella Monet provides a great option for medium skin tone ladies who want to look sharp at work. She has enhanced her eyes with a simple chocolate brown eyeliner and mascara. A soft rose cream blush on the cheeks and matching lipstick looks chic, but like she still means business. If you have brunette hair and warm coloring, you can use nude or bronze shades as well.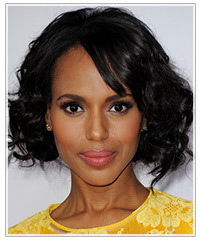 Kerry Washington looks meticulous in black eyeliner and a soft sheer pink lipstick. This is a great idea for ladies with dark skin who want to bring out their eyes and lips but still look natural.
For even more helpful makeup hints, see our full range of beauty articles and beauty blogs. You can even try some virtual makeup on your own photo or our model using our Virtual Hairstyler!