After a brief hiatus, Heather Graham is back on the scene and looking…exactly the same as she did ten years ago! How does she do it?! In a nutshell, Heather is looking hot, not to mention she is rocking some gorgeously wavy hair.
If you love Heather's hair, you can get her soft waves in an instant. Of course, if you want to copy her hair exactly (not just the style), you will need to have hair that is past the shoulders with long layers throughout. To get Heather's hair color, ask your hairstylist for a light golden blonde base with sun-kissed highlights throughout.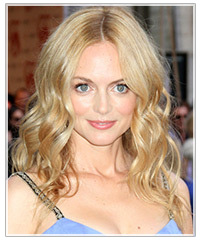 Then, just follow these three easy steps:
1. After washing your hair, create a centre hair part and blow-dry the hair straight.
2. Use a curling iron, hot hair rollers or curling wand to add waves to your now sleekly blow-dried hair. Take one inch vertical "slices" of your hair to curl, rather than square sections, which will keep the crown smooth and the bottom full of luscious waves. Create a ringlet curl on each sliced section of hair and spray into place with hairspray.
3. After all of your ringlets have been created, use your fingertips to separate your curls and voila- you now have Heather Graham hair!
To see how you'd look with the great hairstyle pictured in this blog, click on the above image to try the virtual hairstyle with your own photo!