Without a doubt, Heidi Klum is one of the most recognizable models out there. As a Victoria's Secret model and the host of Project Runway, she has graced the catwalk and the television for a while now, and of course, is a regular on the red carpet.
Heidi was in her prime a few years ago and consistently made the best dressed, best hair, and best makeup lists in almost every publication. Pretty impressive for a model who Karl Lagerfeld infamously said was " a little too fat" and that nobody in Paris knew who she was (ouch!)
Heidi's looks have always been praised by both men and women alike, especially her gorgeous long blonde hair. However, she did recently have a run of bad luck with her hairstyles that seriously threatened her style queen status. On the other hand, her latest hairstyles have shown that she is back on top of her hair game and ready to rock the red carpet once again. But before we get to that, let's check out Heidi's hair fails that really transformed her look—and not in a good way.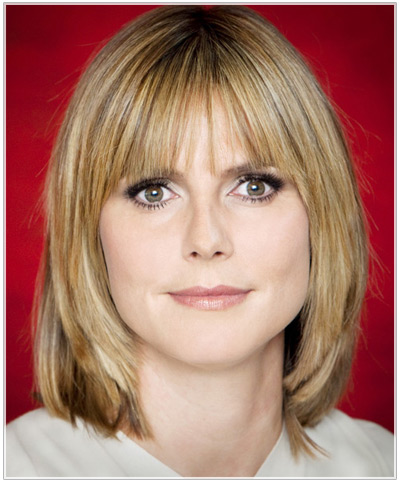 This jagged shag 'do was not one of Heidi's best looks. It really created a boxy feeling to her square shaped face and did nothing for her eyes or fabulous cheekbones. This hairstyle was- dare we say it- dowdy, and looked miles away from her usual glamorous 'dos. The color was also very lacklustre, with an ash blonde base and neutral highlights throughout. Not only was the color palette blasé, the technique was oh so Nineties. And we won't even get started on those layers.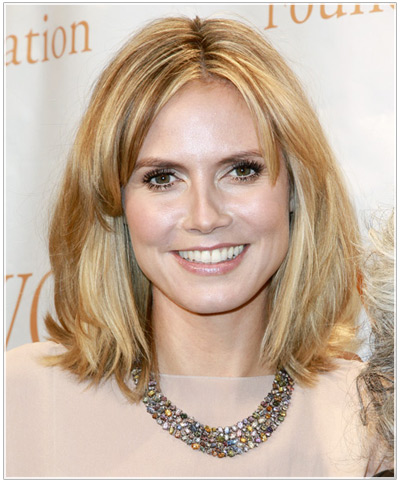 Next on Heidi's hairstyle fail list was this choppy bob. Granted, she was probably trying to grow out the hair fail above, and it definitely is an improvement, but it still wasn't one of Heidi's best looks. Here, some extensions have been added to hide those horrible choppy layers (seen above) and give this hairstyle a more youthful bounce. Heidi is also trying to do away with the bangs and has gone for a centre parted fringe…yet there is no blending with the rest of the hair. This is a disconnected cut that gives Heidi an unflattering 'soccer mom' look- yikes!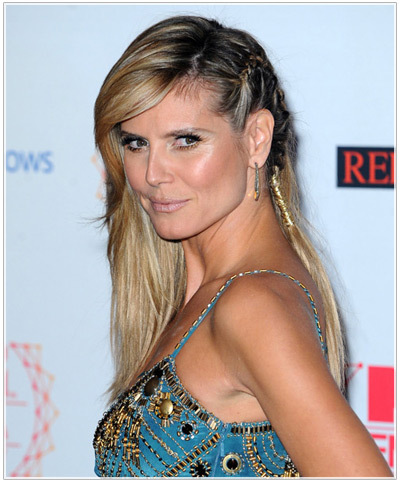 Further on down the line, Heidi has finally got rid of the unflattering bob, but has created a whole new hairstyle fail. Bad roots, brassy blonde highlights and a really weird hairstyle was the problem with this look. Heidi definitely suits longer hair (as do most square face shapes), but she's not quite 'there' yet with this look.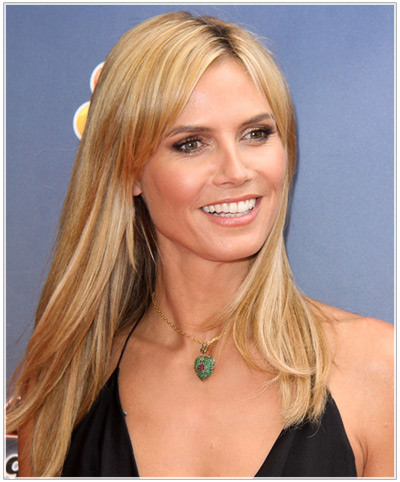 Fast-forward to her most recent look and Heidi is looking fabulous once again. Her hair looks healthy and glowing with blunt edges and a few layers around the face, with a softly layered Bardot bang blending right in. Heidi's face shape is flattered with this cut and her complexion looks stunning with her new color- a light golden blonde with highlights. She really is working all of her best features here and looks like a million dollars.
If someone as gorgeous as Heidi can look dowdy with the wrong hairstyle, then it's even more important for the rest of us to get it right as well. Check out our hairstyles and try it on in the Virtual Hairstyler to make sure it works for your face!