Freida Pinto is not only a successful actress, but also a L'Oreal ambassador and "the most beautiful woman in India"—that's quite an impressive list! She is one of the few leading ladies of South Asian descent in Hollywood, and Freida is also a hair and beauty icon, both in her native land and in America. But regardless of her background, there is no denying she always looks stunning, both on and off the red carpet. Let's take a look at some of her past hairstyles, so you too can get that flawless Freida look.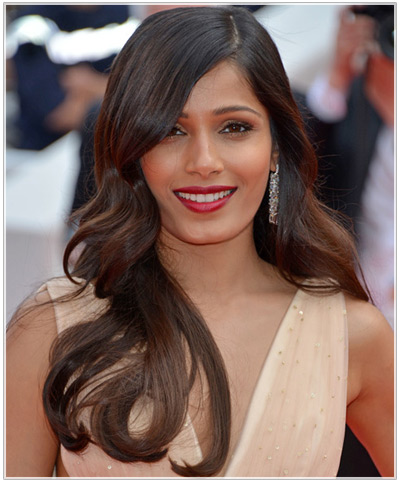 Most recently, Freida looked amazing in long flowing wavy hair, done up Hollywood-style. Freida has an oval shaped face, which means that she can pull off any hairstyle with ease, and this hairstyle was no exception. Freida's gorgeous chocolate brown locks were first blow dried smooth and then curled using large rollers. This method creates glossy locks with maximum volume—a must for the red carpet! To style, Freida has created a deep side part and smoothed through the curls with a large paddle brush for a soft finish. A shine spritz and hairspray topped this look off and held it in place all night. Try this hairstyle on your next evening out on the town.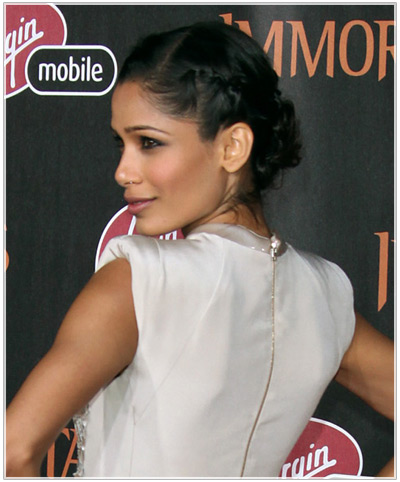 Although Freida has gorgeous long locks, she loves to experiment with updos as well. Here, she is wearing plait or a beautiful braided style that shows off her glossy black locks and that beautiful face. To get this look, all you need to do is begin with a side part and make a French braid on either side that goes towards the nape of the neck. Once your two braids are complete, twist the 'tails' and pin them into place at the back of the head. This hairstyle can work in both formal and casual situations; just leave it looser for the latter.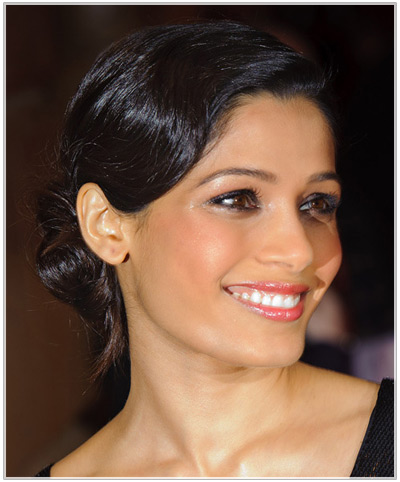 Finally, Freida is looking flawless in a chic and elegant low chignon. This hairstyle is very simple to create using a low ponytail the twisting sections and pinning them in place. Freida has added a sweet little wave to her fringe area for a nice finishing touch, but a full-on fringe or side swept bang would also look fabulous with this hairstyle.
Now that you have some hairstyle inspiration from Freida, check out some of her hair secrets!
Coconut Oil: Freida is said to be a big fan of pampering her hair and scalp with a warm coconut oil massage on a regular basis. Coconut oil is great for restoring softness and shine into your hair, so give it a try!
Avoid the Hairdryer: Freida maintains her hair health by only blow drying it when necessary and allowing it to air-dry whenever possible.
Water Power: Freida credits her healthy locks to drinking lots of lukewarm water throughout the day to cleanse her system.
It's easy to see why Freida Pinto is a hair and beauty icon. Her looks are simple, elegant and easy to create, plus they signal a sense of quiet confidence that is very alluring. Even if you can't recreate one of her looks (if your hair is too short, for example) then take a note from her stylebook and wear simple hair and makeup, and let your natural beauty shine through.