Eye-catching? Yes! But is this a hairstyle that you would attempt to pull off on your next night out? Read on and let us know what you think at the end. First, let's take a look at how to get this extreme updo.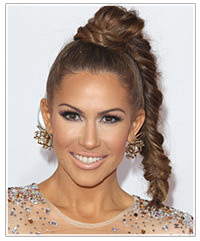 The first trend that Kimberly Cole has incorporated is the Kardashian-style scraped-back high ponytail. This one is easy to do if you have long hair- just comb your hair into a tight ponytail on the crown of your head and secure it with a hair elastic. This is where trend number two comes in—the fishtail braid. Starting at the top of your ponytail, take two sections and begin braiding by taking small sections and wrapping them to the back of the ponytail. Continue all the way down and secure the ends. Finally, trend three—use a braided hairpiece to wrap the base of the ponytail. This lifts the braided ponytail up and covers your hair band.
Kimberly's accessorized this hairstyle with chunky gold earrings and smokey eye makeup.
Is this a hairstyle that you'd like to copy? If so, how would you rock this look?
To see how you'd look with the great hairstyle pictured in this blog, click on the above image to try the virtual hairstyle with your own photo!