Victoria Summer debuted a bold cropped hairstyle recently that has completely transformed her image.
The British singer/actress/model has always been known for her long brown locks and vintage-inspired makeup, but now she is looking uber-fashionable in a black pixie haircut, bold eyebrows and makeup fit for a porcelain doll. This was a bold move for Victoria, but it has paid off—now, she's making headlines not only for her talent, but also for her emerging fashion icon status. Let's take a closer look at Victoria's porcelain doll look.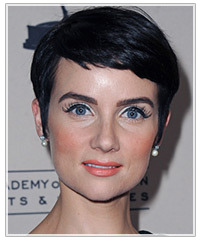 Although black hair can be harsh for fair-skinned ladies to pull off, Victoria's use of bronzer on the cheeks and her bold brows help to tie it all together. The focus becomes her large blue eyes and her delicate bone structure. This is a good tip for anyone who is rocking a shade that is much darker than their natural tone—make sure your eyebrows match, and add a hint of bronzer if your skin is too pale.
Victoria further emphasizes her eyes with a vintage-style liquid eyeliner, pearl eye shadow and huge fake lashes. If you love your fake lashes too, copy Victoria and use them sparsely for a more natural look.
A light coral pink lipstick and blush completes her doll like makeup, and looks great with the contrast of dark hair and light skin. Those with pixies know that makeup is essential when it comes to glamming up your look, so go for pretty, girlie makeup and doll yourself up!