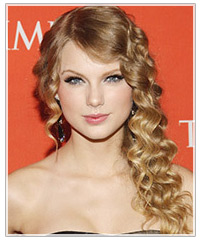 Taylor Swift is known just as much for her powerful voice as she is for her gorgeous face and hair. America's sweetheart always looks classy and sophisticated—a rarity for young celebrities these days!
Taylor's wavy golden locks are usually worn long and loose, or in elegant updos that look natural and feminine. This songbird's makeup is kept clean, fresh and modern, highlighting her large doe-eyes and highly-arched eyebrows.
Taylor shuns fake tan and embraces her fair skin, which works well with the light pink tones she wears on her cheeks and lips. Taylor has cool skin, so the silver eye shadow she often wears complements her complexion and brings out her light blue eyes.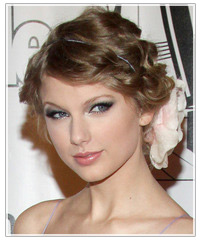 To get the Taylor Swift doe-eyed look, layer a light, medium and dark shade of metallic grey eye shadow on the lid. Use the darkest shade in the crease and fan it out past the corners of the eye. Then, use a black eyeliner pencil, or liquid liner, and extend the line past the outer lash line and up towards the eyebrow. On the bottom lash line, smudge a bit of eyeliner in the outer corner only.  Finish off the look with a generous amount of mascara, or for the ultimate Bambi-eye—fake eyelashes.
See more of Taylor Swift hair and makeup looks.