In addition to her gorgeous bronze dress, Sarah Jeffery perfected the bronzed look on her face as well. This makeup style looks amazing on brunettes, particularly those with brown eyes, and will suit complexions that are medium-fair to dark.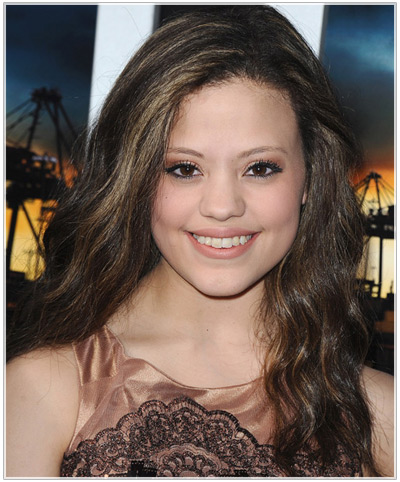 Supplies: To get this look, you will need to pick up a bronze palette eye shadow trio, black or brown eyeliner and mascara, a peach blush and nude or peach-toned lipstick.
Technique: Start with your trio's lightest shade-most likely this will be a beige, pearl or light peach shade. Apply this to your eyelid, blending it up just past the crease. Then use your medium shade (which should be a metallic bronze shade) and layer it on the eyelid and blend it out in a wing shape towards the outer eyebrow (as seen on Sarah here). Finally, take your darkest eye shadow in the trio (probably a dark brown) and apply it to the lash lines with a small applicator brush.
Finish it off by adding a fine line of your black or brown eyeliner around the entire eye. Keep it light so as not to create the 'raccoon' effect. Use a large powder brush to add some peach or bronze blush, and top the look off with your lipstick. Peach, nude or beige shades of lippie will work best.