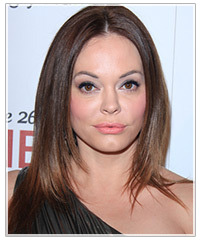 This actress was known for her beautiful and quirky looks once upon a time, so it's a real shame to see that she's had work done to end up looking like someone else entirely. In any case, one thing she has kept of her former self is her glossy locks, chestnut hair color, and her clean makeup which is always applied with precision. While we don't want to take tips from Rose on how to age gracefully, we can take notes from her on how to choose our makeup shades if we have brunette hair.
First thing's first- Rose's makeup will look good on fellow brunettes with cool skin tones, not warm or tanned skin. It will also particularly suit those with brown eyes. Here's how to get the look:
1. Choose a smoky silver eye shadow and sweep it over the lid. Then use a liquid espresso-brown eyeliner to create a dramatic line on the top lash line only. Finish it off with dark brown or black mascara.
2. On the cheeks, use a light baby pink blush on the apples of the cheeks. If you are tempted to use a bit of bronzer here to warm up your skin—don't. This look is all about an icy cool palette and bronzer will clash.
3. Finally, find a light sheer pink lipstick to complete the look. This is a great shade to make your lips look plumped- sans Botox!
See more Rose McGowan looks and try the hairstyles on with your own photo.