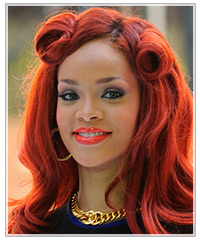 Rihanna is no shrinking violet. From shocking red hair to her raunchy stage shows, she's always got us on the edge of our seats, waiting to see what she's going to do next.
She's had every hair color known to man- black, brown, blonde, and every shade in between, with her most current choice being fiery orange-red.
She's gone short, long, straight, curly, vintage, punk, glam and gothic. Whether you love or loathe her music, you can't deny she's not afraid to push the envelope.
If you have bright and bold locks (natural or dyed), Rihanna can certainly provide some makeup inspiration. Currently sporting a modern pin-up girl look (pictured above), Rihanna has added French rolls and large waves to her hair, with cat's eye liquid eyeliner. Matching your lipstick to your hair color is always risky, but given this attention-seeking look is meant to be bold, it works.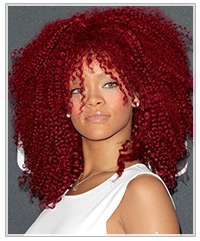 To work her burgundy hair (left), Rihanna chooses to go natural and wears a nude lipstick that matches her creamy skin tone. A little pink eye shadow brings out her hazel eyes, finished with a soft rosy cheek. In this case, she lets her fantastic hair take center stage.
See more ways Rihanna wears makeup with red hair.