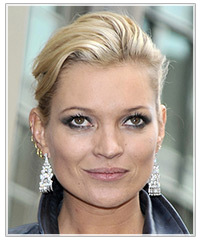 Is there anyone on the fashion scene who's more rock n' roll than Kate Moss? We think not. Kate's got the whole package—a hugely successful modelling career, musician husband, wild lifestyle and a chameleon-like ability to pull off any look flawlessly, even after partying into the wee hours of the morning. Even with some major scandals under her belt, the world of fashion still covets Kate.
To sum up a "typical" Kate look is impossible. Her hair, makeup and clothes are forever changing, which is why we can't get enough of her! She does, however, love all things vintage, and loves to re-create looks from the past.
Kate's wide-set feline eyes and high cheekbones are 100% supermodel, and (lucky her) she doesn't need to do much to make her features stand out. We usually see her wearing a bit of effortlessly smudged black eyeliner and nude lipstick, however she has rocked every look from '40s screen siren to modern day rock'n'roll starlet (and everything in between).
These days, Moss is a newly-married woman and is sporting romantic tousled blonde locks with au naturel makeup. Is fashion's most notorious party girl finally settling down? Whatever the case may be, there's no doubt Kate Moss will forever be a beauty icon.
See more of Kate Moss hair and makeup.