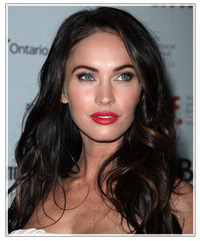 Hailed as the new Angelina Jolie, Megan Fox has been making headlines on the Hollywood scene for her sultry looks. She's also known for putting her foot in her mouth in cringe-worthy interviews, but that's another story. Let's talk about her flawless hair and makeup.
The woman is obviously obsessed with old Hollywood glamour, just look at her Marilyn Monroe tattoo. With her vintage curls and porcelain skin, Megan knows how to work the screen siren look.
She's got gorgeous bright blue eyes and bee-stung lips—two features she plays up with her makeup. Fox isn't big on eye shadow, she relies on precision eyeliner and luminous lashes to make her eyes stand out. She is an avid fan of Diorshow mascara and sometimes uses fake lashes to add volume, but rarely will she flaunt a super smoky eye or bright colored shadow—she sticks to the basics. And let's not forget those dramatic eyebrows. Fox uses a MAC pencil to make sure her brows look full and perfectly arched.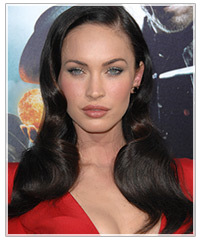 Megan is also known for her showstopping red lips. She plays up her pout with a variety of hues from this color family, and knows the golden rule of beauty: "Bright lips, neutral eye. Neutral eye, bright lips" so she never looks overdone, or older than her years.
Check out more of Megan Fox's sultry hair and makeup here.
For more helpful makeup hints, see our full range of beauty articles and beauty blogs. You can even try some virtual makeup on your own photo or our model using our Virtual Hairstyler!