If you're looking to give your natural hair color a boost, or if you've changed your hair color and want to maximize the impact of your new look, makeup colors that will compliment and bring out the best in your features and hair color can help you to do so. Learn all about it with these great tips!
Blonde Hair
Blonde hair adds lightness around your face so compliment it with soft pastel makeup that will enhance your hair color and create a great overall look.
For your eyes, try light eye shadows in ash, pale pink or taupe and give mascara and eye liner in a dark brown color a try. When it comes to giving your cheeks a playful glow, try pale pink or peachy pink blush colors. As for your lips, light to medium shades of pink, peach and rose will give you a luscious lip look.
Red Hair
Red hair can be very head-turning so give your look the attention it deserves with the right makeup shades.
For your eyes, green eye shadow is a great contrast for red hair and colors in gold, bone and taupe will create a very flattering eye shadow look. Enhance your eyes further with dark brown eye liner and mascara. To dress up your cheeks, give rosy brown and apricot shades a go. To really compliment your hair color, lipstick and lip liners in peach, red and brownish pink shades are great options.
Brunette / Black Hair
If you have dark hair, use makeup that will brighten your skin tone and contrast well with your hair color.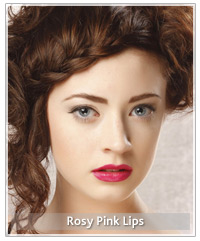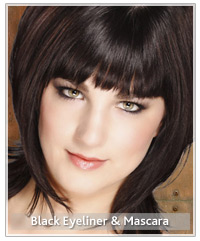 Enhance your eyes with light brown or mocha eye shadow and then use dark brown or black eye liner and mascara to define your eyes. For your cheeks, rosy pinks and browns will give you a fantastic finish and will also work well for your lipstick and lip liner color options.
We hope these makeup color suggestions will help you to bring out the best in your hair color. If you have any suggestions of your own, leave them as a comment below.

To see how makeup can work for you and your hair, upload your photo to our virtual hairstyler now and try on 1000's of hairstyles, 50 hair colors and 100's of makeup shades for foundation, blush, eye shadow, eyelashes, eyeliner, lipstick and lip liner.