Lacey Chabert was the total package when she was papped on the red carpet recently—the hair, the makeup, the dress—everything was spot on! This is a gorgeous evening look so on your next girls night out, why not give it a try?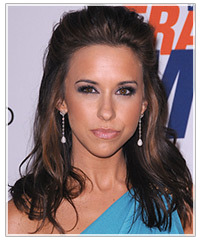 The first part of this look is her effortlessly beautiful hair. This is easy to do as long as you have medium to long length hair. Simply set your freshly washed hair in extra large hair rollers and dry. Then let your locks down and separate them with your fingers. We want more body than curl here, so use your comb to backcomb the roots and let the rest hang loose. Pull the hair on the crown up and off the face leaving lots of volume at the top, and secure at the back of the head with hair pins.
The next part of the look is the makeup. Lacey has chosen smokey grey and black eye shadow and full eyeliner. Her lashes are maximized with mascara and a few fake lashes on the outer corners. On her lips, she uses a very soft pink lippie with a cool sheen to it.
Finally, the dangly earrings and one-shouldered dress give Lacey an exotic Grecian goddess look. Take a style note form Ms. Chabert and paint the town red in stunning sky blue!