If you are a die-hard Kesha fan, you'll love her edgy, over the top sense of style. The disheveled look is what Kesha does best—from messy hair to ripped clothes and falling out of nightclubs—her style is pure chaos. In this photo, Kesha is rocking a look that is more glamorous than usual-the glam rock look. You too can look like David Bowie circa the Seventies, so put on your sequined jumpsuit and style yourself like so: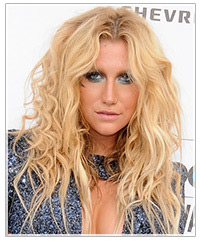 • Get as much volume and texture in your hair as you can while you are blow-drying it. Use mousse and a root lifter on your damp hair and then blow-dry your hair upside down.
• Next it's time to add texture. Use a curling wand to add random ringlets to your hair. Go for a blend of loose waves and tight curls.  Use a comb to backcomb your hair out and create more volume, then create a slick centre hair part.
• You can go crazy with the makeup and use metallic blue (or another bright shade) applied heavily around the eyes. For extra glam-factor, apply a sparkly star to your temple like Kesha has done here, or draw a design on with a glittery metallic makeup pen.
For even more helpful makeup hints, see our full range of beauty articles and beauty blogs. You can even try some virtual makeup on your own photo or our model using our Virtual Hairstyler!