And she looks, dare we say it- classy! This just goes to show that no matter how grungy a girl likes to dress, there is always a way to look glam and gorgeous, should they choose to do so. Let's take a look at Kesha's new look in closer detail.
The Hair: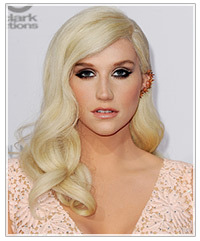 Kesha has gone for an all-over peroxide blonde shade. Usually she leaves her hair a mess so the blonde looks very rock n' roll. But with the magic of rollers and a deep side part, Kesha instantly transforms into a demure doll. Bleach blonde hair is one shade where the styling can really impact the overall look—it can turn your look from sophisticated to slummy in an instant if it's not properly styled.
The Makeup:
Kesha's ditched the garish colors and the "I slept in my makeup and just rolled out of bed" look. She's replaced it with smokey brown eye shadow highlighted by peach tones. A little bronzer on the cheeks and a shimmery nude lipstick polishes off this pretty palette.
What do you think of Kesha's new look? Does she look better transformed, or trashy?
For even more helpful makeup hints, see our full range of beauty articles and beauty blogs. You can even try some virtual makeup on your own photo or our model using our Virtual Hairstyler!