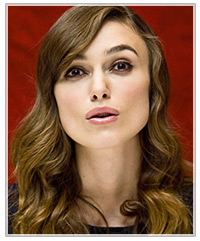 English Rose Keira Knightley is not one to conform to the Hollywood stereotype. Instead of metamorphosizing her image which bleached hair, tanned skin and breast implants (as so many do), she has maintained her natural dark hair, porcelain skin and very small chest during her climb to the top of the A-List, and we love her for it!
Keira's not one to do crazy makeup. When she's not all glammed up on the red carpet, she's looking effortlessly cool, usually with minimal makeup. Don't you hate when people can do that?!
Women with fair skin and brown hair can copy Keira's look easily. While most celebs let their eyes or lips do the talking, Keira is all about the skin. Her flawless complexion is most likely due to regular use of sunscreen, so make this the first step in your daily beauty regime.
Bring out your eyes with a chocolate brown eyeliner on the top and bottom lash lines. Use a pencil rather than a liquid liner to get Keira's softly-defined look. Apply a beige eye shadow on the lid and crease of the eye, and use a champagne shade as a highlighter just under the eyebrow arch.
Finally, use a light pink blush on the apples of the cheeks, with a soft pink lip to match. Keira's favorite is Boot's Line and Define lip pencil in nude.
See more of Keira Knightley's hair and makeup.