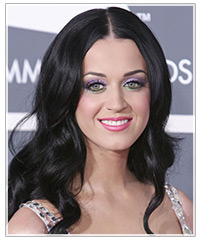 Katy Perry's style is whimsical and fun, similar to her sometimes cheesy but undeniably catchy pop songs.
From blue hair to dresses made of carousels, Katy has fun with her entire look and makes the most of her huge eyes, thick wavy hair and fabulous figure.
A fan of latex dresses and rainbow-colored hair extensions, will the now–married Katy Perry sport a more demure look in the future? Even though she has recently traded in her raven-hued tresses for her natural blonde shade, we think she's got plenty of wacky looks up her sleeve.
Katy has sported endless make up looks throughout the years, from a retro pin-up girl to a modern-day Cleopatra, her makeup shows many personas both on and off stage. For her everyday look, Katy brings out her large blue eyes with black liquid wing-tipped eyeliner, perfectly arched brows and pink lips.
For evening, Perry is a great example of how to have fun with color. She's not afraid to use splashes of violet, mint green and electric blue eye shadow paired up with rosy pink cheeks and a cool pink lipstick.
If you are feeling extra-daring, try cobalt blue eye shadow with a matching wig!
See Katy Perry's colorful makeup and hairstyle looks.