The vintage look is so overdone in Hollywood these days—the curls, the black cats' eyeliner and the red lips—it's no doubt a very pretty look, but it's getting a bit tired. Here, Julianne Hough goes vintage in a different way. This is a heavy makeup look yet it still looks classy and sophisticated, so give it try instead of the black liquid liner and red lipstick on your next night out. Here's how to get this look: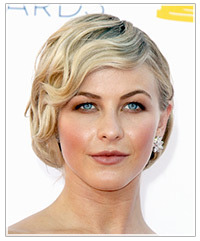 • We want the eyebrows to look slightly "painted on", so use an eyebrow pencil that is one shade darker than your natural color to fill and shape them.
• Next, use a milk chocolate brown eye shadow on the upper eyelids. Use an angled brush on the bottom lash line to add the same color below.
• Use a deep brown eyeliner on the top lash line only, and top it all off with mascara on both lash lines.
• On the cheeks, start with a highlighter on the apples, followed by a dark rose shade on the hollows.
• Match the lipstick to the blush by using a brown-base rose shade.
Julianne's makeup looks stunning on blondes but will also suit brunettes as well. And don't forget about your hair! The ultimate way to wear your hair with this makeup is in soft finger waves, like Ms. Hough has done here. Rock a deep side hair part and low bun or chignon for a truly glam look!