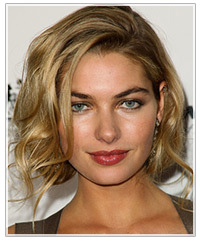 In this photo the stunning model from Down Under, Jessica Hart, shows us how to pull off the "effortlessly cool" look. This natural brunette has highlighted her hair to dark beige blonde, which matches her tanned skin tone and blue eyes perfectly!
Being a model, she knows how to work her best features, which she does here by using warm bronze eye shadow and dark brown eyeliner to bring out her bright blue eyes. Her cheeks have just a hint of bronzer for that sun-kissed glow, while her full lips are accentuated with a rich berry lipstick. Her full dark eyebrows also provide a great frame for her eyes, so if you have naturally thick brows put away the tweezers and do a Jessica Hart!
Hart's hair is very long with a slight wave in it, so wearing it down must get a bit tiresome for her. In this photo, she creates a messy faux bob by rolling and tucking her long hair under at the nape of the neck. She has left some loose layers around the face out for the ultimate model-chic hairstyle. Try this hairstyle the next time you need a quick way to wear your hair up—it only take a few minutes and looks oh-so-cool!
See more Jessica Hart hair and makeup looks.