She has told the press that she is not in a rush to get back to her pre-pregnancy form, but in the hair and makeup department she's still looking fabulous anyway. Here's how to get hair and makeup like Hilary Duff.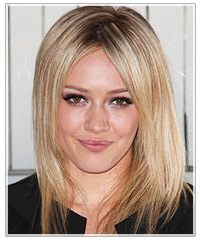 Hilary's hair is naturally dark but she lightens it to a wheat blonde. This is a great shade for her skin tone and hazel green eye color. Her haircut has many layers, especially around the face and near the bottom. Razored ends add hair texture and work with her oval face shape.
To style your hair like Hilary, use a root-booster and add volume to the crown by backcombing it at the roots. Add a zigzag hair part and your hair is done!
Makeup-wise, Hilary keeps it light. She uses brown eyeliner and eye shadow to being out those gorgeous green eyes, and of course, tops it all off with mascara. Here, she has left her cheeks and lips bare but she is also a fan of sheer pink lip stains and lipstick. Wearing light makeup lets Hilary's natural beauty shine through—give it a try next time you want a fresh, easy makeup look.